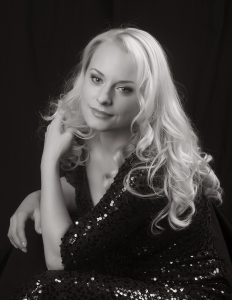 Sabina Cvilak has quickly become one of the world's leading lyric sopranos, enjoying an international career in opera and concert. She headlines in major opera productions in Slovenia as well as in opera houses around the world. Her beautiful onstage charismatic persona and an incredible warmth of her voice make an outstanding impression on each role she portrays.
Since her triumphant US debut as Mimi in La Boheme in Washington National Opera by invitation of Placido Domingo, where she got reviewed by Met weekly: "Soprano Sabina Cvilak brings real pathos and presence to her Mimi and she is one of the best sopranos who graced the WNO in seasons", she perfected and deepened her vocal reach and in 2015 she iconically portrayed the role of Blanche in Les dialogues des Carmelites and got even more critically acclaimed,
Sabina has been also accompanying tenor Andrea Bocelli on tours in Asia, United Kingdom, and Europe. 
During the 2017-18 season, Sabina again returns to Hessisches Staatstheater Wiesbaden as Elisabeth in Tannhäuser, Arabella in Arabella and in season 2018 / 19 as Jenufa in Janacek and Salome in Salome.
In May of 2018 she will perform as Fantine in Les Miserables at the Slovene National Theatre Maribor and in season 2018 – 19, she will return to the same stage as Marguerite in Faust and Magdalena in Andrea Chénier.