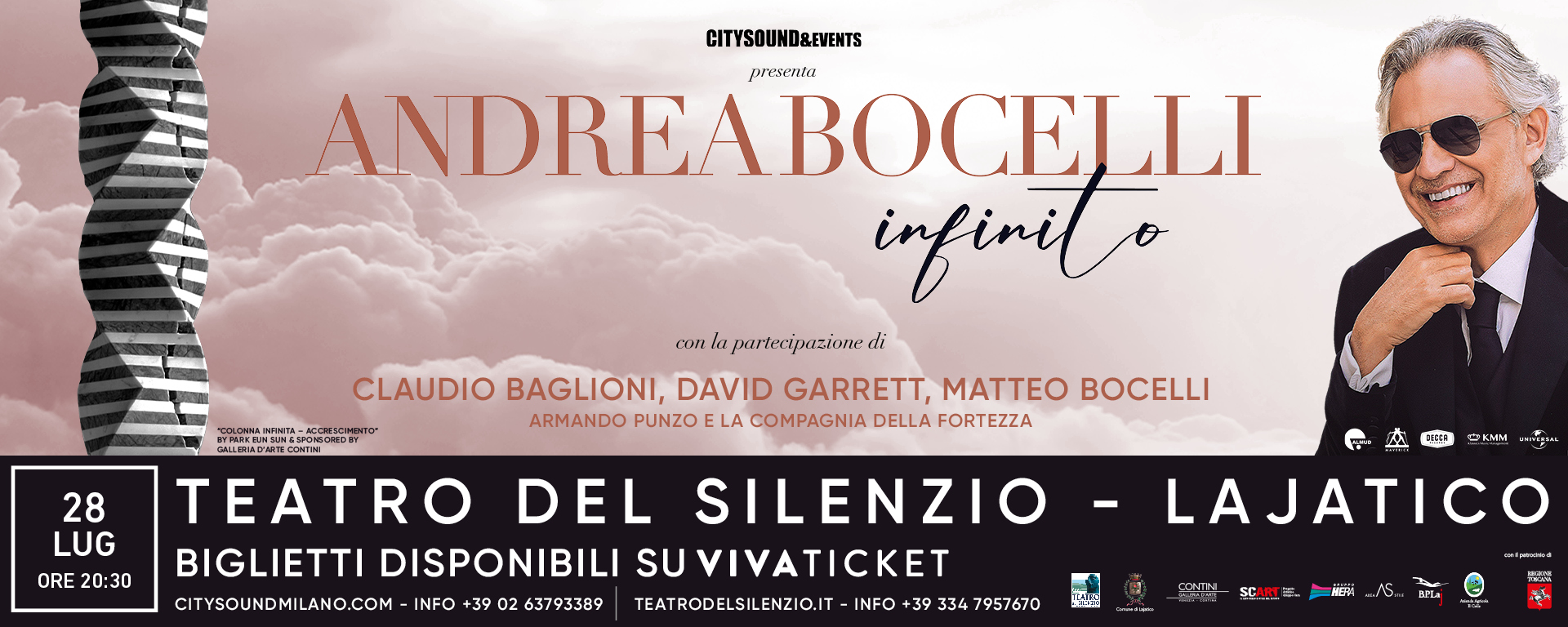 City Sound & Events 
is pleased to announce
 
The 17th edition of the Teatro del Silenzio
Thursday, July 28, 2022 8:30 p.m.
The 17th edition of the Teatro del Silenzio, the exclusive artistic event that comes to life every year on the hills of Lajatico in the province of Pisa, Maestro Bocelli's hometown, has been confirmed for July 28, 2022. 
Thus, the magic of a unique performance is set to happen again, during which Andrea Bocelli, supported by many famous artist friends and by the Teatro del Silenzio Orchestra, will give life to an unforgettable evening, under the artistic direction of Alberto Bartalini.
After passing the milestone of the fifteenth edition in 2020, during a year that was ravaged by the emergency situation caused by the pandemic, and having tenaciously attempted to not break with tradition by putting on a great show dedicated to hope in front of a virtual audience filled with people from all over the world and after finally opening the audience to the public in 2021, during an edition that was significantly dedicated to the mystery of beauty, 2022 will mark the year when we fully begin again, through an event that will return to convey the full potential of a location that is quite unique to the world.
The concert scheduled for July 28, 2022, is set to be an exceptional event, not to mention a joyous experience that will envelope the audience in an embrace made up of sound and visuals, presenting them with a parallel score of color and fantastic stage design and a message of hope and positivity, as traditionally occurs in Lajatico.  
"I am celebrating a new day that we can spend together, next summer. I am celebrating a project that has marked more than half of my career and that once again is stepping up to the challenge by setting a date and striving to live up to expectations and, if possible, exceed them". 
These are the words of Maestro Andrea Bocelli, who also emphasized how "after the uncertainty that marked a difficult two years globally, culture and art must return to their rightful place and play the vital role they deserve. It is my strong desire – to which I will fully commit myself so that this dream of mine may become a reality – that the next Teatro del Silenzio shall be a sumptuous, buoyant and memorable metaphor of an energetic, global new beginning. The striking expression of the awareness that art (and the music that is the voice of art, and the life that art celebrates) always wins out". 
Andrea Bocelli and City Sound fan club members will get the opportunity to access to an exclusive presale starting from 4:00 pm (CET) on Friday, October 1, 2021.
To access the presale, please click here. Please note that you must be registered on www.vivaticket.it and log in.
Would you like to join the fan club please register here.
City Sound & Events recommends buying tickets only from authorized pre-sale channels, which include: Vivaticket, City Sound and InfoLajatico.
If you buy tickets outside of these authorized channels, you may pay higher ticket prices or receive fake tickets or invalid tickets for which City Sound srl is not responsible.
For more information:
City Sound & Events: +39 02.63793389
tds@citysoundmilano.com, www.citysoundmilano.com