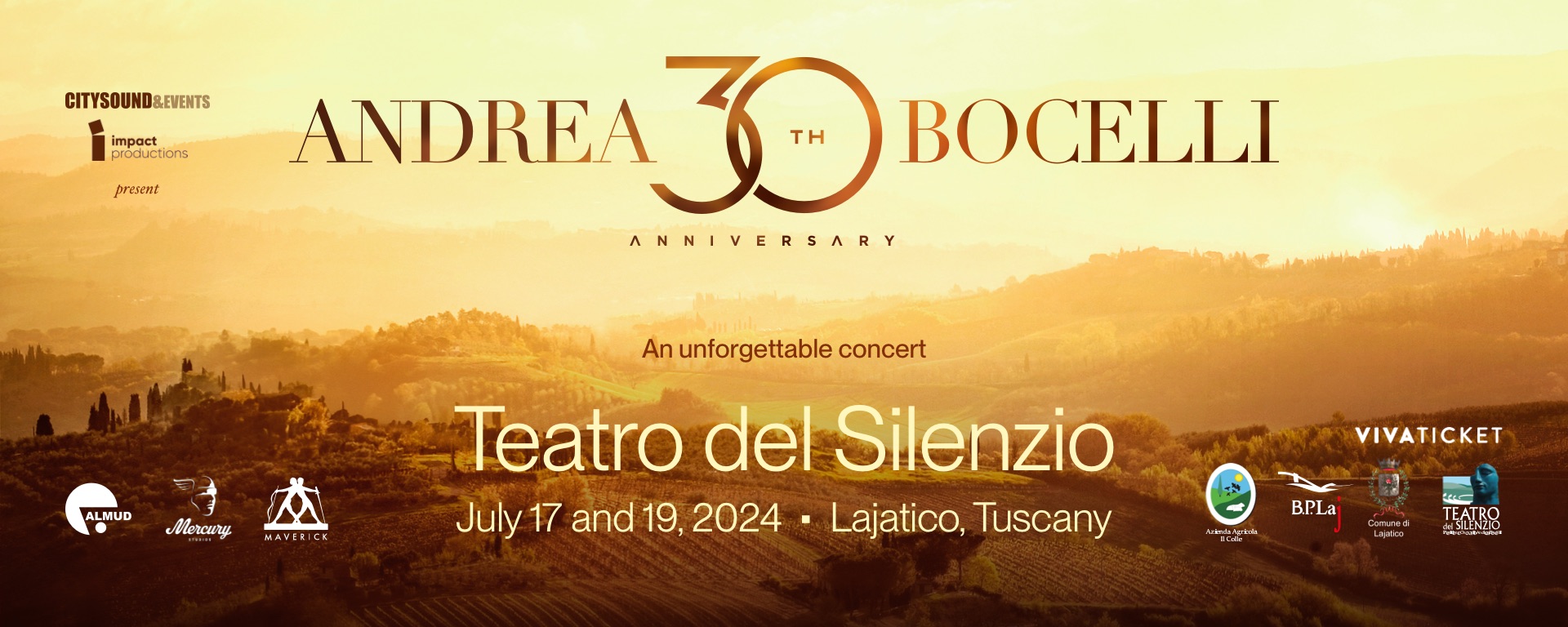 17th and 19th
July 2024, 8:30 pm
| | |
| --- | --- |
| EXECUTIVE** | 860,00 € |
| POLTRONISSIMA | 500,00 € |
| 1° POLTRONA | 430,00 € |
| 2° POLTRONA | 325,00 € |
| POLTRONCINA | 275,00 € |
| TRIBUNA NON NUMERATA | 180,00 € |
** The Executive ticket includes: best seat in Executive area – concert booklet  – Bracelet to access the VIP Hospitality with welcome cocktail before the concert – exclusive gift of the Teatro del Silenzio- One parking space near the theatre for each transaction made (regardless of the number of tickets purchased)
PLEASE NOTICE: In case of bad weather, the shows will be recovered July 18th and 20th, 2024 and no refund can be requested.
We encourage you to carefully read the terms and conditions of CITYSOUND LTD (More) and general terms and conditions governing the sale of the input Titles applied by authorized ticketing circuits.
We would like to remind you that if you are pregnant or injured or reduced mobility:
For security reasons and to protect physical integrity, if you are pregnant or injured or reduced mobility, you should not attend the event, in case, pregnant woman or injured persons or reduced mobility decide to be present at event, we would like to advise that they will be doing so at their own risk, without any liability on part of City Sound.
In case pregnancy that has been discovered, or injuries that have occurred after the date of purchase of the tickets of the event, it is not permitted to replace or refund the purchased tickets, nor will it be possible to sit in a different place from the one indicated on the purchased ticket.
The price, if related to the tickets, includes the presale fee if applied. The price in any case does not include the fees and / or expenses related to the sales service (off-line or online also through the Call Center) applied by Authorized Ticket circuits.
CITYSOUND LTD is the event organizer. CITYSOUND LTD disclaims any responsibility in case of purchase of securities Input out of Authorized Ticket circuits and in case of unlawful use of securities input from buyers of the same.
DISABLED ACCESS INFORMATION
The organizer strongly recommends that disabled people attend the show by positioning themselves within their reserved area, which is accessed upon prior reservation by sending an email to
teatrodelsilenzio@citysoundmilano.com
CHILDREN
Children under the age of 6, accompanied by an adult with a regular admission ticket, can enter and attend the show without paying for a ticket but must not occupy a seat.